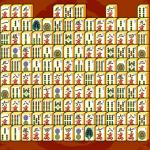 Mahjong Connect
Mahjong Connect is an attractive and addictive puzzle game for everyone around the world on Friv 10 Online Game. This game requires you to use your intelligence and observation skills. Therefore, your biggest mission is to match two objects of the same kind and make them disappear in the match.
Sometimes, you can think that Mahjong Connect is very simple but it isn't easy to conquer because the objects are quite similar. Try your best to complete each level in the limited time. Play online and for free at friv 10 games for school here!
How to play?
Play this game by using your mouse on the computer.
Rating: 4.5/5 (2 Total Ratings)
Free