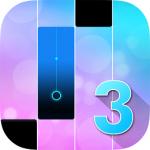 Magic Tiles 3
Magic Tile 3 is a musical game. Experienced the previous versions, the game developers not only have improved the errors but also have added more new functions and interesting features for the game. The sky is the limit to their effort and creation, this special product promises to give you wonderful experiences at. Friv 10 school.
As an old saying that: "The music is the representation of the musicians' soul". I believe that the taste of music types will show the audience's soul too. Here in this game, there are various immense songs upgraded in the list. Thanks to that, players with Friv 10 game. can easily find the immersive melodies for them. We have many famous and classic songs like Red Berries in Blossom, Marche Militaire, Wedding March, etc.
Hope you can have an enjoyable time with Magic Tile 3 at http://friv10play.net/. The objective of the game is to press successfully on black titles running consecutively on a title board. This process will only stop when the song ends. Try your best to avoid pressing on other notes. That mistake will make you end the game before gaining 3 crowns so as to open the next songs.
Tips, tricks, and hacks in Magic Tile 3
Some titles are required a combinational action. Press and hold ones to get the optimal score in the game.
The game has supported the players with handheld devices. Try it so as to get more fun at Friv10play.net
More information
If you are keen on playing this game, I recommend that you should try other awesome games that are the same genre as Magic Tile and try this similar game as Piano Tiles 2 on Friv games 2017.
Please refer to this list game
How to play ?
Use your mouse to interact with the song's notes.
Rating: 4.4/5 (30 Total Ratings)
Free