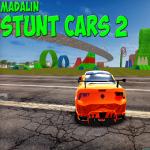 Madalin Stunt Cars 2
Woa! Finally, Madalin Stunt Cars 2 also officially return for game lovers around the world. Are you ready to conquer every track of Madalin Stunt Cars 2? Get into your favorite car and show off your talent with friv 10 games now!
To start this game, you are free to choose 1 in 2 modes: Single player or multiplayer. Jump into a race, control your car carefully, pass through all challenges and leave your other talented racers behind on the race track. More fun and more experiences are waiting for you at friv 10 school !
Play more the best game of racing at http://friv10play.net/racing
How to play?
Use arrow keys or WASD to control your car in the game or check out Madalin Stunt Cars 2 mobile.
Rating: 4.6/5 (18 Total Ratings)
Free