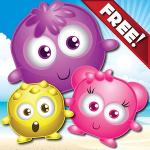 Jelly Drips
Jelly Drips game: This is a game online for kids at Friv 10 school. Two drips of dodgy jelly is trying to escape from the lab. But the way to freedom is still long and full of obstacles. Let's help them get out of there safely in Jelly Drips!
Jelly Drips is a fantastic skill and action – puzzle game in which you will help 2 drips of jelly escape from genetic the lap with Friv games for free. Along the way, they have to take all the pipettes and avoid all of the dangers such as spikes, lasers and so on. Reaching the exit safely is not easy at all. You must show off your skill and fitness. Enjoy 24 challenging levels with many different features and an original mechanic. You can find all games of 2018 on http://friv10play.net/
Remember that you have to complete the current levels in order to move to the next ones. You can experience the more related games such as 94% Online at Friv10play.net. Have fun!
How to play: Use your mouse to move, press 1 to select the pink jelly and 2 for green one.
Rating: 5/5 (1 Total Ratings)
Free