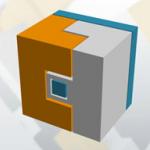 Interlocked
Interlocked is a free puzzle game to play online at Friv10play.net. You know those puzzles consisting of a few wooden blocks that are impossible take apart? Your goal to separate each combination of blocks in each level. Look around and move the blocks away from each other to proceed! Have Fun.
Instructions:
When using the Glance Tool (an eye icon is displayed at the bottom left circle) you can rotate the puzzle with the mouse while holding the left mouse button.
When using the Pull Tool (a hand icon) click on a piece to pop up the axis selection gizmo and pull in the desired direction.
To switch tools press the spacebar or click the tool icon. You can hold the spacebar to use the other tool.
You can also play: Puzzle Legends | Wheely 7 | 3 Pandas in Japan
Rating: 5/5 (2 Total Ratings)
Free