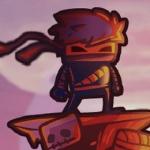 I Am The Ninja
I Am The Ninja game: The fun game online of 2018 at Friv 10 flash. A true ninja is a person who can master this final mission. It's tough, dangerous but worth the effort. Enjoy I am The Ninja!
I am The Ninja is an insanely interesting adventure game Friv. It' easy to learn but hard to handle. To become a true ninja, you have to pass the final mission. Are you able to complete it? There are 2 modes for you to play. In the High Score mode, you have to reach the exit door as fast as possible to earn points in 20 levels. Try it now on http://friv10play.net/
In the Start Collector mode, you still have to reach the exit door as well as collect the stars in 18 levels with Friv 2018 for school. However, you must avoid all of the obstacles like spikes along your way. You only move to the next levels if you finish the current one. More fun games are waiting for you to try which are Little Ninja on Friv10play.net. Enjoy!
Instructions: Use arrow keys to move and jump.
Rating: 5/5 (1 Total Ratings)
Free