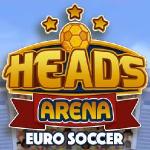 Heads Arena Euro Soccer
Heads Arena Euro Soccer game: This is a hot sport game for kids at Friv 10 school. Both you and your friend like soccer games but can't find a funny two-player one to play. Join Heads Arena Euro Soccer to invite your friend to a competition. Much fun!
Heads Arena Euro Soccer is a hilarious two-player Euro soccer game in which your mission is to guide your soccer player to use his giant head to bounce the ball to the opponent's goal with game Friv 10. There are 3 different modes: Tournament, Party, and Will Grigg mode. Play the Euro Cup event in 1-vs-1 or 2- vs-2 matches. Find other sport games online at http://friv10play.net/sports
Especially, choose Will Grigg mode and you can hear your fans singing 'Will Grigg's on fire' chant every time you score a goal against your big-headed soccer star. Test your heading skills and enjoy playing the game. Enjoy more with Pele soccer legend on Friv10play.net. I bet that you will laugh happily every time!
Game controls: LEFT Arrow = Move to the left
RIGHT Arrow = Move to the right
UP Arrow = Jump
SPACE bar or Q = Kick the ball

Rating: 0/5 (0 Total Ratings)
Free