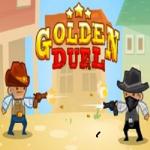 Golden Duel
Play Golden Duel shooting game on friv 10 games 2017. Take the law to your hands! Be fast and be accurate to become the big boss! can you beat them all? Try now !
It looks like you are the new sheriff, but some bad guys eagerly waiting to shoot you. Agree to a duel to the death at high noon, in true Western tradition to restore the peace in the idyllic town! Despite the heat you must be concentrated, faster and smarter than the bandits.
Try to win one Golden Duel or friv 10 games for school after another to gain cool upgrades and beat the high score. Ready for the Golden Duel? Good luck!
Adding an attractive choice for you, check out action game Bomber at War 2 on friv10play.net now!
Game Controls: Mouse
Rating: 5/5 (1 Total Ratings)
Free