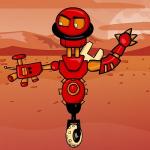 Go Robots 2
Go Robots 2 is the second part of Go Robots which is an interesting puzzle platform game on friv 10 school games. In this game, the world is divided into 2 parts. One part is normal world and another is an upside down world.
And your mission is to help both of two robots in the different world reach their right portals in each stage with Friv games 10 . But it's not so easy. You have to think wisely and build an intelligent strategy to find the best solution because along the way, there are many obstacles which will harm the robots.
So kill them before be killed. There are 25 stages in total waiting for you to experience. Try your best to get 3 stars after each level. Have fun with other games online of 2017 at http://friv10play.net/!
We always offer many attractive games as the game above such as Wolverine Tokyo Fury on Friv10play.net
Game controls : Mouse
Rating: 5/5 (1 Total Ratings)
Free