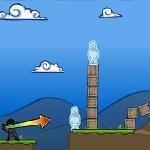 Fugite de Morte
Play Fugite de Morte to help a man escape from Death. More fun and more experience are waiting for you. Good luck! Fugite de Morte is a funny game which tells you about an old man's flight from the Grim Reaper on Friv 10 games of 2018.
The black-cloaked messenger of Death comes to that old man and wants to take his life, but he doesn't want to die with games Friv 10. Therefore, he decides to run away from Death. Your mission is to help the old man to jump over a number of obstacles on the way and run as fast as possible because Death never stops chasing after him. Find all games online for free of 2018 at http://friv10play.net/new
Additionally in Friv games, the game features simple but interesting graphics that will make you comfortable while playing it. Much fun! If you like playing Fugite de Morte, you may also like Combat Tournament on Friv10play.net
Game controls: Simply use the mouse or hold and press the Space bar to jump over the obstacles.
Rating: 0/5 (0 Total Ratings)
Free