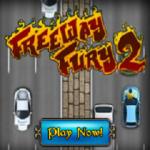 Freeway Fury 2
This game can fit all speed lovers. In this game, you will turn into a real racer. The objective of the game is to control a specific vehicle in order to go to a target point. There are 2 options for you in this game, normal mode, and free ride. Both of the selections are excellent; you will become a game's fan after trying them on http://friv10play.net/.
To play the normal choice, click on the Play button and experience it. 60 seconds are your limited times; use this time wisely to get the best achievement in the game at Friv 10 player games. In the free riding selection, you will have 6 things; take advantage of these opportunities and gain the best score. You will be scored basing on many criteria such as jump turns, long distance, speed reversal, etc.
Tips, tricks, and hacks in Freeway Fury 2
Your achievements will be saved on your current device. Thus, if you want to experience in other devices or receive more supportive features, log in to your online account at Friv games 10.
To facilitate the process of controlling your vehicle, you can use the M or Space key instead of Z key.
You can check the map each time your game character died. Take these chances in order to keep track of your way and then get better gaming tactics.
More information
If you are fond of Freeway Fury 2 and want to have more cool experiences like you already had in the game, visit our website at Friv10play.net and try other this similar games as Freeway Fury 3 or Road Racer . Wish you have a memorable time at Friv games of 2017.
How to play
Press Left and Right arrow keys to steer.To jump onto other vehicles, hold the Z key and then use the arrow keys.
Earn nitro by performing certain stunts. Press Up arrow key to use nitro boost at Friv games.
Rating: 5/5 (1 Total Ratings)
Free