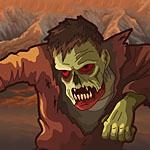 Earn To Die 2012 Part 2
This is the second part of the Earn to Die 2012 game's sequel for all ages at Friv 10 online games. It's still 2012 and you are still surrounded by cruel undead's seeking your fresh flesh with Friv 2018 games . Your fool-proof plan is to reach the rescue heli. Much fun!
In this game Friv, So hop in your first four-wheeler, fasten seatbelts and drive as far as you can through the masses of bloodthirsty zombies as you use your earnings to purchase upgrades for your car or unlock new ones. Enjoy Earn to Die 2012: Part 2! You can also play other similar games as Earn to Die and Earn to Die 2 Exodus at Friv10play.net!
Game controls: Use your mouse to play the game
Rating: 5/5 (1 Total Ratings)
Free