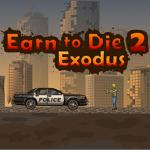 Earn to die 2 exodus
Earn to Die 2: Exodus is not a simple driving game but one of the most gruesome ones. A massive of zombies is attacking your city at Friv 10 school. You have to get out of there. Otherwise, you will become one of them.
Surviving will be much more difficult. Buy a car, get on it and drive as far as you can. However, it's not so easy, they are chasing you. So you have to upgrade your vehicle with better armor, bigger tires, and more weapons. Have fun on http://friv10play.net/!
If you want to play more games, check out Earn to Die, Earn To Die 2012, & Earn To Die 2012 Part 2 - They are Free Game Online. It's all free games we offer for free to you on Friv10play.net.
Game controls : Mouse
Rating: 5/5 (1 Total Ratings)
Free