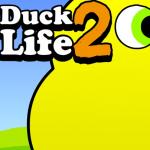 DuckLife 2
Play DuckLife 2 on Friv10! Train a duck and compete in races to become the next world champion. Train your duck in climbing, flying, running, and swimming. Enjoy DuckLife 2!

Controls: Mouse = Feed the Duck, Arrows = Move / Jump .
Now available DuckLife 3 the latest installment of the series. Share them with your friends!
Rating: 5/5 (1 Total Ratings)
Free