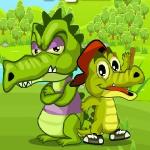 Dragoniada
Dragoniada at Friv 10 online games is an exciting journey of a lovely dinosaur that wants to explore life outside the wild. It's lost in a mysterious forest with a series of dangerous challenges and your mission is to help it escape from the forest. Before starting this game, I believe you will be impressed by Dragoniada's graphic design. The game is designed with extremely eye-catching graphics with color and unique images.
Moreover, the striking image and harmonious lighting will give players the most engaging experience at Friv 10 school games. What is your mission? Your main task is to control the lovely dinosaur wisely and destroy all the hedgehogs in the stairs. Note that, these hedgehogs will move constantly on the screen and change positions from the ranks. So you have to watch carefully and shoot until the hedgehog falls to the ground. Much fun with other Friv games for all ages at http://friv10play.net/
In addition, there are many golden stars on the screen. Take every opportunity to collect them and use them to upgrade the strength and life of the dinosaur. Don't hesitate anymore! Click this adventure game at Friv 2018 games and explore many interesting things. Don't miss the chance to play more with Bus Subway Runner at Friv10play.net!
How to play?
The players can use arrow keys to control the hero, hold the up arrow for long jump, space to shoot the enemy.
Rating: 5/5 (1 Total Ratings)
Free