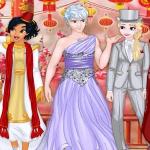 Disney Crossdress Wedding
Disney Crossdress Wedding game: This is a fun game online for girls at Friv 10 club. Have you ever helped couples choose wedding costumes? Never ever, right? Join Disney Crossdress Wedding to show off your design ability!
Disney CrossdressWedding is a simple but very interesting game. In the game, you will have to choose costumes, accessories and wedding places for three couples with Friv games of 2018. There are 4 symbols located on the left side of the wardrobe and you need to press each symbol so that all costumes, accessories and wedding places can be displayed in the wardrobe. There's one more special thing that when playing the game, you will be extremely surprised because the men are brides and the women are bridegrooms. Find other girl games for all ages at http://friv10play.net/girls
Is it interesting? Try your best to make them become the most beautiful couples in their wedding! Play Disney Crossdress Wedding right now! Wish you have a great time! Don't miss the chance to explore more with Princesses Masquerade Party on Friv10play.net!
How to play: Use the mouse to choose costumes and others.
Rating: 1/5 (1 Total Ratings)
Free