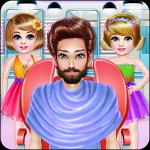 Crazy Day With Daddy
Dad always plays an important role in the family. However, Dad does not know how to cook and do other jobs, so you have to help Dad complete all missions in Crazy Day With Daddy. Friv 10 games for school chooses this game for the girl who loves her father and wants her father to be happy. What happens when your mother is away? Certainly, the house will become diffused and needs to be cleaned up.
You will clean the house by cleaning, washing clothes and finally making your father's hair. There is a small salon in the house where you start styling your dad. After everything is so beautiful, your mother will be very satisfied. Friv games of 2018 collect the most interesting games for you in your spare time without being bothered by ads. You can start gaming without worrying about anything. Each task has its own instructions.
You just follow the steps and do your job well to help Dad clean the house. Crazy Day With Daddy game at Friv 2018 is loved by girls and they understand the lessons that this game brings. You can explore other special game worlds with similar games like Disney Princess Dress Store. Ready to complete all quests! At Friv10play.net, you will become a good baby. And your mom will be very pleased with both you and your father.
Controls: Use the mouse to follow the instructions of the game.
Rating: 4/5 (2 Total Ratings)
Free