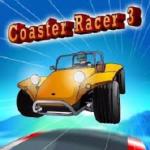 Coaster Racer 3
Coaster Racer 3 game: This is a fun game for free at Friv 10 club. In the third installment of the fun-addicting racing game you can challenge your opponents in a buggy or a bike or a F3 machine at Friv 2018 . Race your favourite upgradeable vehicle as fast as you can along the wild coaster tracks. Have fun!
In the third game of the awesome racing series you have to beat all your opponents in a bike, buggy or F3 machine at Friv games of 2018. Make sure to upgrade your vehicle after each race. You can also play Coaster Racer and Coaster Racer 2.
How about game? A similar game also is very famous in this series as Drag Race 3D.Check out it now on Friv10play.net!
Game controls: Use your mouse to play the game
Rating: 0/5 (0 Total Ratings)
Free