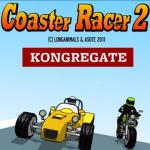 Coaster Racer 2
Speed, suspense, compassion and regret!!! All will have in Friv Coaster Racer 2 – an exciting race for thousands of the players around the world at Friv 10 school. Who will become the best racer in this interesting racing game It completely could be you!
Everything is available for you at games friv 10 .In this game, you will have the opportunity to experience such a real driver. You can drive your car directly and master the speed in the game. Use all your racing skills to drive your car wisely and run as fast as possible on the race track.
Try your best to leave your opponents behind and avoid being destroyed by dangerous obstacles and deadly traps on the way. Pay attention to the arrows that will warn the safe track on the path. Therefore, you should only go inside the arrows to avoid falling to the ground.
Don't forget to collect nitro and conquer every track at Coaster Racer 2 friv .With cool graphics and lively sound, I bet that this game will bring you a great experience in life.
Besides, there are some related games that you will love to play such as Coaster Racer and Coaster Racer 3. at Friv10play.net.Share our " Coaster Racer 2 " with your friends!
How to play?
It is very easy to control your car. Use arrow keys to drive it on the race track.
Rating: 5/5 (2 Total Ratings)
Free