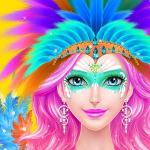 Carnival Make-up
When playing Carnival Make up, you will customize the girl according to your style. Choose clothes, accessories, skin, hair, etc. from the square located on the right side of the screen on Friv 10 club. Notice that you need to press on each symbol at the top (right) of the screen so that all its samples can be displayed.
Choose the best clothes and accessories after combining them together. This game's rule is easy to understand, right? So what do you wait for? Explore the game right now. If you want to play more similar games, check out http://friv10play.net/
How about the game ? If you like our " Carnival Make-up ", please rate it and should play this similar game as American Girl on Friv10play.net,try and feel now with your freinds !
How to play: You will have to use the mouse to play Carnival Make up.
Rating: 5/5 (1 Total Ratings)
Free