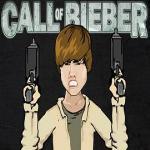 Call of Bieber
In a fantasy world of Call the Bieber, Justin Bieber a famous pop star. He is being pursued by the police. No one knows why. Maybe he was guilty of something. The cops want to catch him. This game was inspired by Justin Bieber's short role in CSI. In this Friv online games, you have to help him defeat all cops and escape safely. It's really hard though because Bieber is alone while polices are as thick as ants. You have to move fastly and cover behind the objects like stones, trees, signs and more, but some objects can break. You get money by killing cops.
After that, you can upgrade your weapons, buy ammunitions and health packages by the money you've earned. There are various weapons in the store such as the handgun, submachine gun, shotgun, assault rifle, minigun and sniper rifle. Each of them has its own fire speed, power, mag capacity and reload time with Friv 10. If you have enough money, you can buy the one at your proposal.
Here at Friv for kids, you can't shoot down any policies if you cover behind something. You must stand in front of them. Just shoot and run immediately. Call of Bieber is an interesting shooting game about a fun story of Bieber that you can play for free all the time at Friv10play.net . Besides, at there, you also can find tons of amazing games that are both entertaining and challenging. Try out these following options: Unreal Flash 3!
How to play: Use AD to move, left click to shoot and Space to reload.
Rating: 4/5 (1 Total Ratings)
Free