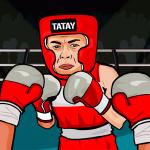 Boxing Live 2
Boxing Live 2 , this is the sequel of this fun boxing game on friv games of 2017 . Prepare and train your boxer. Once you think he is ready for it and Create the boxer of your dreams rom hair to skin.
Do you have the skills to win against Roy Lewis, Wilfred Mayweather, and Floyd Williams? Create your own boxer, and train before entering the ring on http://friv10play.net/ . Improve your stamina, chin strength, and toughness to win the lightweight, welterweight, and heavyweight titles!
Create the boxer of your dreams and start training. If you think he is good enough, let him fight against real champions. Enjoy Boxing Live Round 2! You will enjoy the games of friv10 .Compete in boxing matches to collect title belts and become the next champion!
Are you ready to play more with Boxing Live on friv10play ? Get more and more smiles!
Game Controls: Arrows = Punch /Jab /Straight /Uppercut, Ctrl = Haymaker, Space = Block
Rating: 4.3/5 (3 Total Ratings)
Free