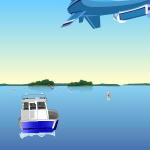 Boat Rush
Boat Rush brings you to the interesting journey through twisting canals and rivers on Friv 10 player games. It's time for you to show off your skill and your finesse.
Your task is simple to try your best to go as far as you can without blowing up due to tons of obstacles along the way including lasers, rockets, rocks and so on. Besides, do not forget to collect the golden coins to upgrade your boat. Play now at http://friv10play.net/
Let's see the best distance you can get. Just break your own records. Check out other related games such as Skip Jumping on Friv10play.net .Have a great time!
Game Controls: Control your boat with the mouse or arrow keys.
Rating: 5/5 (2 Total Ratings)
Free