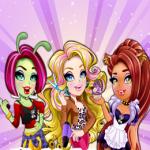 BFF Masquerade
In game BFF Masquerade, there are five girls who don't know how to choose the most beautiful outfits and accessories for themselves on Friv 10 school games. Your mission is to help them become the brightest girls at Masquerade party. To complete your task, you need to help them try all costumes and some accessories which are located in each circle.
Press each circle so that all samples are displayed. Let girls try all outfits and accessories until you feel satisfied. You will select costumes for each girl. If you finish choosing for the first girl, the second girl will come. Show off your fashion skills! Have fun with Friv girl games in site!
If you like our " BFF Masquerade ", please rate it and should play this similar game on http://friv10play.net/girls ,try and feel now !
Game Controls : Mouse
Rating: 5/5 (1 Total Ratings)
Free