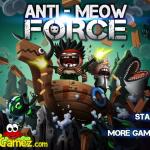 Anti Meow Force
Anti Meow Force is a free game to play online at friv10play.net. Your mission of the game is to help prof X to bring back fish population back to normal. Travel through the land and get rid of all bad kitties in this fun side-scrolling shooting game. The more cats you kill, the more money you get, from which you can purchase multiple weapons, ammo and upgrades! Featuring 7 unique weapons with upgrades, 18 stages ... Have Fun.

Manual:
Mouse hold to shoot
Mouse = Aim / Shoot, ASDF = Choose Weapon

You can also play: Iron Ladies | Tommy Slingshot | Gun mayhem 2 ..
Rating: 5/5 (1 Total Ratings)
Free