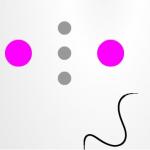 Another Pretentious Game
Another Pretentious Game: This is a fun game online for kids at Friv 10 club. Can you avoid obstacles while you are drawing? Play Another Pretentious Game to know you are a skillful artist or not. Much fun with your friends!
Another Pretentious Game is a skill game for all ages with Friv games of 2018. Your mission is to use your drawing lines to hit the colored circle. Remember that you have to avoid the gray circles while drawing (only move around circles). If not, you will lose.The number of circles will increase at higher levels and it means the challenge will be greater. Find other puzzle games for free on http://friv10play.net/puzzle
Therefore, you have to reach the extremely clever drawing skills in order to pass all levels. Try your best so that you can become a professional artist who can draw at any places. Wish you have a great time with this game and don't miss to enjoy more with Roly-poly Cannon: Bloody Monsters Pack on Friv10play.net. Discover it right now! !
Controls: Use the mouse to make a drawing line and then release it.
Rating: 5/5 (1 Total Ratings)
Free