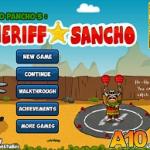 Amigo pancho 3
In the third chapter of the fun- addicting puzzle game Amigo Pancho at Friv 10 kids games, Pancho is hired as a sheriff of a small village in Mexico. And this time he not only has a journey to the blue sky of this fantastic land but also has a mission of saving the children from the top of the mountain.
Let's help him to complete his mission safely. Various dangerous obstacles along the way will prevent him such as bees, cactus, spikes and so on with games Friv 10. You can help him remove these objects and clean the path in order to make Pancho fly with his two balloons up to the top safely.
Watch out! Do not let any dangerous thing make contact with him or his balloons. Otherwise, he fell down and his mission failed. Enjoy Amigo Pancho 3 on http://friv10play.net/!
Interestingly, you can explore more with Saving Little Alien on Friv10play.net now to enjoy many wonderful feelings in life. Use mouse to play game !
Rating: 5/5 (1 Total Ratings)
Free