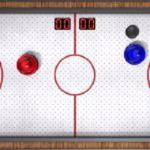 Air Hockey
Play Air Hockey on friv 10 games, You'll play with easy to control mallets that aren't too big or small and a puck that rockets across the table. The goals are sized to perfectly balance rapid game play and the challenge of the game. Advanced physics and air hockey sounds make the game act and sound like you're playing on a real table!
Air Hockey is a HTML 5 game have fun and is an extremely fast paced game. Choose the game difficulty, hit the puck into your opponent's goal, control the blue paddle with your mouse or tap the screen. there is only one rule: be the first to score is and the first one to score 15 points wins!
There are some similar games on friv10play.net such as Tint Pop .What are you waiting for? Click now!
Rating: 4/5 (3 Total Ratings)
Free