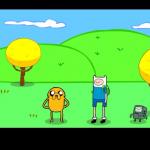 Adventure Time Saw Game
Adventure Time Saw Game is a free game to play at Friv 10. Do you know Finn & his dog Jake from the cool American animated television series? Play as Finn and try to solve all riddles of the Adenture Time Saw Game to free your buddy from the badass. Good Luck!
Manual:
Use mouse to play this game.
► You also should try: I Remain
Rating: 3.5/5 (2 Total Ratings)
Free